OUT AND ABOUT
Since I retired we have done so many things and gone to so many places we wanted to go and do when we worked, but there never seemed to be enough time. Not to say we were not very active and social all those working years; but it seemed we had to cram so much into those days off and vacations. A very good family friend, Dan, always says about retirement "every day is Saturday." I have decided to take it one step further and say "every day is like being on vacation." So, when we head out into the beautiful Capital Region, we like to go out as if we were on vacation. Do and see things like a tourist in our home town. And, the days don't have to be jam packed. We can head out in the morning leisurely and get home early. The Capital Region is a pretty densely populated region so rush hour is.....well.....uhm.....let's just say if you don't have to be out there it is best to be home. We like to be home by 4:00 p.m.
Today we decided to head a bit south of Albany to
Coxsackie
to check out the
Coxsackie Antique Center.
But since I have not been to the Christmas Tree Shops in a few weeks we headed there first. And, I had a $25.00 gift card burning a hole in my pocket. It is amazing what you can come home with for only $25.00.
A fun beach theme beverage pitcher, two pairs of fabric flip flops (anchors and lobsters,) a cute Uncle Sam, a patriotic bird, a tote bag and Independence Day earrings.
I love the earrings!
After a quick Dunkin Donuts stop we jumped on the NYS Thruway and headed south 3 exits. Just off the Thruway is the antique center.
What is great about this multi vendor center is the rustic feel when you approach. Although the grounds may look unkempt, everything is very strategically placed. There are several little vignettes like this with the old farm machines and little chickens,
Rocks, statuary and flowers mixed in with the rustic rural growth around the building.
More antique equipment surrounded by lush greenery.
Although a pretty nondescript building on the outside, the building is full of wonderful vintage finds.
A head vase to add to my small collection, as well as another August Angel, and the unique wood bobble-head cat.
On the way home we decided to take State Route 9W back up north so we could make a few stops along the way and grab some lunch.
Van Allen Farms
in Glenmont. And we also hit a Dollar Tree and a Tuesday Morning. For lunch we decided Panera would be an easy choice. And, I love the Panera menu.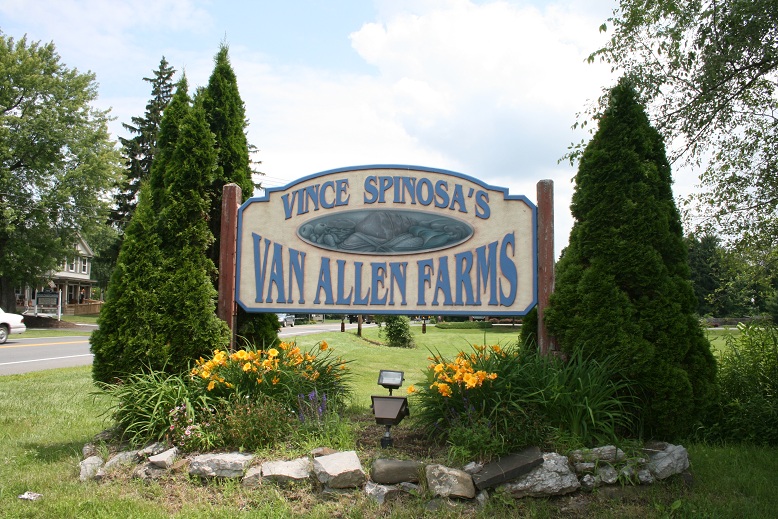 I decided on the bbq chicken salad, perfect for a Summer day.
And a couple of double chocolate cookies for tonight.
After lunch we headed on home. After unloading the days loot and settling in, a quick jump in the pool to wash off the day. And then a quick dinner. When we were at lunch I was dieing for soup but it seemed a bit warm, after getting home and the jump in the pool the evening started to cool down. So I decided to have my soup. I love the simple combination of cheese tortellini with chives and cheese in a savor beef broth. It is so quick and easy but very satisfying.
PJs on and settling in for the night.
This is the kind of day we would have on vacation, and I am so pleased to be able to have it here at home.